The Trails You'll Ride: Starker Forests
May 26, 2023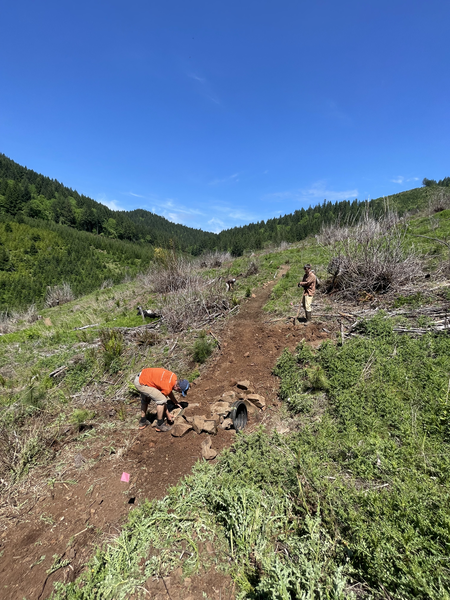 Did you know that some of the best trails in the Mac Forest area are actually in a Starker Forest? Starker Forests has operated in the Benton County area since 1936. There is a long history of Starker Forests allowing permitted recreation on their land, the working relationship with Team Dirt extends that relationship to the mountain biking community. Starker Forests owns the Blodgett area and the Alder Creek tree farm, adjacent to the McDonald Forest.
Starting at McCulloch Peak in the Mac Forest, the Starker trails Southridget, Word to Your Mother, As You Wish and Narnia Forest make for a fantastic, 3 mile, 1500' vertical singletrack descent. These formerly unauthorized trails were identified by Starker Forests to be problematic, and Team Dirt reached out and worked with Starker to fix the problem areas and save the trails from being decommissioned. Team Dirt organizes build days twice monthly in the Alder Creek tree farm, and our latest work has been a reroute of the Southridget trail. Note that riding at Alder Creek requires a free Starker permit, available from their Main Office.
Your support makes this possible. Membership dues go towards the tools and safety equipment that are necessary to build and maintain these local trails, and volunteers make it all happen. Be a part of this work. Join Team Dirt.

Through the month of May, joining Team Dirt will enter you to win one of four prize packages offered nationally by IMBA, including two Yeti bikes, two sets of wheels, a Western Spirits bike trip or a Jensen USA gift certificate. You can see the package details here. It will also make you a valuable member of this mountain biking community. Join or renew your membership with us today at https://www.imba.com/join/chapter/team-dirt and continue to make mountain biking better in Corvallis.