The Trails You'll Ride: Alsea Falls
May 18, 2023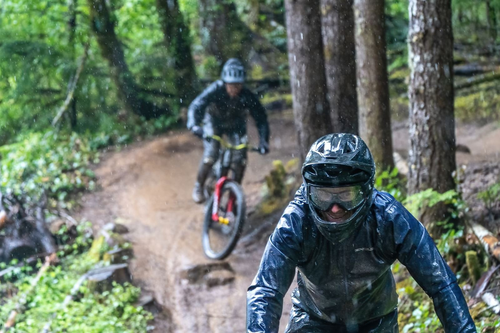 The Bureau of Land Management manages the Alsea Falls area. Since 2013, Team Dirt has worked with the regional BLM office of Oregon/Washington to create the Alsea Falls trail system. In June of 2014, the system opened to the public with about 6 miles of trails. The trail system has become one of the major destinations for mountain biking in the Willamette Valley, and Team Dirt has an agreement with the BLM to provide ongoing maintenance of the trail system. That partnership resulted in another 2.5 miles of trails opened in 2017, and by 2018 the Chutes and Boulders trail was opened, resulting in 11.5 miles of trails. Chutes and Boulders has since had a pretty major makeover and has just reopened in April of 2023.
One of Team Dirt's signature events is the Alsea Falls shuttle weekend, running in June and September each year. Hundreds of riders get the chance to shred the outstanding, flowy trails at Alsea without the pain of the long climb. This event can't happen without your ongoing support, requiring about 75 volunteers a day to keep things running smoothly for our riders. New for the 2023 event is the Team Dirt Huckwagon, a large-capacity bike trailer paid for in part by member contributions and in part by funds raised at the shuttle days.
Your support makes all of this possible. Membership dues go towards the tools and safety equipment that are necessary to build and maintain these local trails, and volunteers make it all happen. Be a part of this work. Join Team Dirt.

Through the month of May, joining Team Dirt will enter you to win one of four prize packages offered nationally by IMBA, including two Yeti bikes, two sets of wheels, a Western Spirits bike trip or a Jensen USA gift certificate. You can see the package details here. It will also make you a valuable member of this mountain biking community. Join or renew your membership with us today at https://www.imba.com/join/chapter/team-dirt and continue to make mountain biking better in Corvallis.