"Nothing's For Free" Movie Screening (Dec 3rd)
Oct. 26, 2023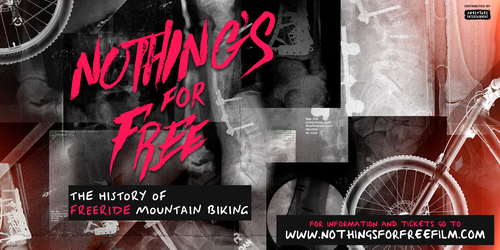 We are pleased to inform you that we will be hosting a screening of the new film "Nothing's For Free - The History of Freeride Mountain Biking" at the Majestic Theater in Corvallis on December 3rd at 7pm! There will be concessions and drinks available; and all the proceeds go to Team Dirt!
Synopsis:
Every sport has its Dog Town and Z Boys or Riding Giants. Nothing's For Free is the real story of the birth and legacy of freeride mountain biking. Chronicling the blue-collar story and rise of a cult sport to a global phenomenon that put the race-driven sport of mountain biking on the map in the world of action sports and the mainstream.
Outside Studios, in association with Freeride Entertainment, breaks boundaries in documentary filmmaking, taking a step beyond the talking head interview and deep into the mindset of its cast. Nothing's for Free, features the biggest names in mountain biking from the early pioneers of adventure to modern-day internet superstars like Danny Macaskill and Brandon Semenuk.
Tickets Available here:
https://www.eventbrite.com/e/nothings-for-free-film-at-the-majestic-theatre-tickets-744639345327?aff=ebdssbeac
Hope to see you on December 3rd!