Build Days - February at Alsea Falls
Jan. 30, 2023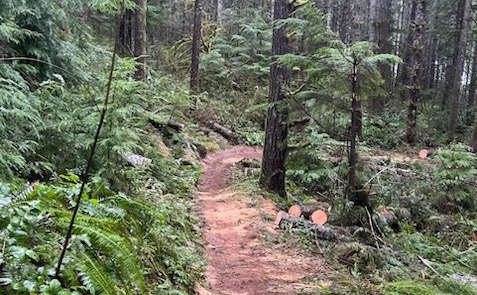 Join us for February Build Days at Alsea Falls. We will host build days every first Saturday and every 3rd Sunday (see full dates below).
These build days are intended to maintain and build fun stuff. Open to everyone; no prior experience needed. Bring your MTB for shuttle rides after (weather permitting). Volunteers that contribute 12+ hours annually earn an Alsea parking pass! Activities typically include trail maintenance, drain service, and removal of debris.
Details:
Time: working - 9 - 1 pm, bikes - after!
Where to meet: Falls Creek Trailhead
What to Bring:
- Appropriate Clothes/gear for the weather
- Snack/water
- Bike/riding gear for shuttles
- bring your stoke!
Register:
Sounds like fun? Register at the links below!
If you haven't done so already, join Team Dirt! Your dues go back to supporting Mountain Biking here in the Corvallis area. Your membership gets you access to online retailer discounts and a 10% discount at local shops Bike n' Hike and Peak Sports (on bike-related purchases).